Belara Beach Original Miniatures

P.O. Box 1206, Kill Devil Hills, NC  27948

BAKERY

"No Calorie" Non-edible Sweets for Dolls:)

1:12 Scaled Dollhouse Model Collectibles Intended for Adults Only

B515b - Blueberry Pie

Lattice top in 3/4" tin

$ 5.50

B515c - Cherry Pie

Lattice top in 3/4" tin

$ 5.50

B500 - Bakery Boxes

3pc for pies or cakes

$ 3.75

B517c - Chocolate Cream Pie, Sliced

Pie w/two slices & utensils

$ 11.50

B508p - PASTRY SAMPLER PLATE

Variety will differ, 5-6pc

$ 2.75

B509 - CINNAMON ROLLS

8pc, loose in box

$ 3.25

B510 - CREAM HORNS

8pc, loose in box

$ 4.25

B511 - CRUELLERS

9pc, loose in box

$ 4.25

B512 - DANISH

9pc variety, loose in box

$ 4.75

B513 - DONUTS

9pc, loose in box

$ 4.50

B513a - SUGAR DONUTS

9pc, loose in box

$ 4.50

B514 - ECLAIRS

8pc variety, loose in box

$ 4.50

B513gt - DONUTS

8pc chocolate on tray

$ 3.50

Thank you for shopping

with

Belara Beach Originals.

We sure appreciate

your business!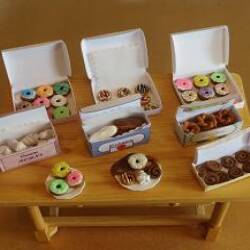 B515a - Dutch Apple Pie

In 1" pie tin

$ 6.00

B517 - Chocolate Cream

Pie in 3/4" tin

$ 6.00

B518 - Pecan Pie

Southern style in 3/4'' tin

$ 6.75

B519 - Pumpkin Pie

Pastry leaves in 3/4" tin

$ 5.75

B521c - Lemon Cream Pie, Sliced

Pie w/two slices, garnish & utensils

$ 11.50

B522c - Key Lime Pie, Sliced

Pie w/two slices, garnish & utensils

$ 11.50

B612 - CUPCAKE BOX

Neopolitan, 4pc loose in box

$ 11.00

B500c - CUPCAKE in BOX

Variety gourmet - one piece

$ 3.00

***please note***

THE REST OF BAKERY PAGE IS TEMPORARILY CLOSED

WHILE I RENNOVATE THE WEB SITE AND MAKE NEW INVENTORY.

MORE BAKERY ITEMS WILL BE AVAILABLE LATER IN 2015

THANK YOU FOR VISITING, AND ESPECIALLY TO MY TERRIFIC CUSTOMERS!!!

BE SURE TO CHECK OUT THE REST OF THE WEBSITE - MANY OTHER ITEMS STILL IN STOCK & AVAILABLE NOW.

SEE DIY FOOD KITS for BAKERY BOX KITS

INTERNATIONAL CUSTOMERS - S&H is estimated & may be more,

billed with your approval.  

US Customers

Add insurance, if desired thru

shipping page.

ORDER BY MAIL

Return to HOME PAGE to JOIN our FACEBOOK PAGE or Sales/News Mailing List
Handcrafted foods & accessories are made from polymer clay, paper and wood.