BELARA BEACH ORIGINAL MINIATURES

ROYAL GLASS MINIATURES

Jars, Glasses, Pitchers, Candy Dishes, etc

1:12 Scale Doll House & Shadowbox Collectibles for Adults, Not Intended for Children

Handblown glass  in 1:12 scale - sizes may vary slightly

Website updated June 2016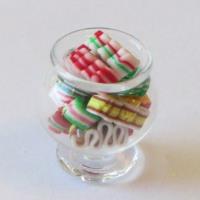 ON SALE WHILE STOCK LASTS - ROYAL GLASS "R" ITEMS WILL NOT BE AVAILABLE ONCE SOLD OUT

Add class with glass!

Can your own mini foods, mix bar drinks, display fancy desserts, cookies, candies & more!

Thank you for shopping with

Belara Beach Originals.  Your business is appreciated:)

INTERNATIONAL CUSTOMERS - S&H is estimated & may be more,

billed with your approval.  

US Customers

Add insurance, if desired thru

shipping page.

ORDER BY MAIL

IM65046 - COOKIE or CANDY JAR

1-1/4" tall w/stopper

$ 2.75

IM65423 - GLASS VASE

7/8" tall

$ 2.50

IM65561 - GLASS JAR

7/8" tall

$ 2.25

RYG1011 - ROUND FLASK

7/8" tall,  7/16" wide

Reg $3.60 now $ 3.00

RYG1004 - JARS w/Corks

3/4"-7/8" - 3pc

Reg $4.40 now $ 3.50

RYG1012 - SQUARE FLASK Sm

5/8" tall, 5/16" wide

Reg $3.60 now $ 3.00

RYG1020 - PARFAIT

5/8" tall

$ 2.25

RYG1129c - SERVING BOWL

7/8" across

Reg $2.50 now $ 2.00

RYG1026c MILK BOTTLES

7/8" tall - 2pc

Reg $3.50 now $ 2.75

RYG1029 - TUMBLER

5/8" tall

$ 1.75

RYG1045 - SQUARE FLASK

7/8" tall 3/8" wide

$ 2.00

RYG1036 PIE PLATES

7/8" across - 2pc

Reg $3.00 now $ 2.50

RYG1047 - TEAPOT Set

Pot w/lid & saucer, no cup

Reg $6.80 now $ 3.00

RYG1048 PITCHER

1" tall

Reg $2.80 now $ 2.50

RYG1050 - CANNING JAR

Sm 5/8" tall w/lid

Reg $3.50 now $ 3.25

RYG1057 - BASKET

Fluted-3/4" wide

Reg $3.00 now $ 2.25

RYG1060 - DECANTER FLASK

7/8" Tall

Reg $3.60 now $ 3.25

RYG1054 - JAR w/STOPPER

5/8" tall w/lid

Reg $3.50 now $ 3.25

RYG1070 - BANANA BOAT

1/2" tall, 3/4" wide

Reg $3.50 now $ 3.00

RYG1072 - SUNDAE DISH

1/2" tall & wide

Reg $3.30 now $ 3.00

RYG1074 - CANNING JAR

Med 11/16" tall w/lid

Reg $3.50 now $ 3.00

RYG1084 - CANDY JAR

1-1/8" tall w/stopper

Reg $2.50 now $ 2.00

RYG1093 - SUGAR JAR

3/8" tall plus stopper

Reg $3.20 now $2.50

RYG1099 - BASKET

Sm 3/4" x1" tall

Reg $3.20 now $ 2.50

RYG1107 - DECANTER/CANDY JAR

7/8" tall w/stopper

Reg $3.00 now $ 2.50

RYG1102 - GLASS CANISTER

1" tall w/stopper

Reg $3.00 now $ 2.50

RYG1112 - SAUCER

Lace edge, 3/4" wide

Reg $3.20 now $ 2.50

RYG1119a - WINE GOBLET

Amber stem 3/4" tall

Reg $2.75 now $ 2.25

RYG1119b - WINE GOBLET

Cobalt stem 3/4" tall

Reg $2.75 now $ 2.25

RYG1125a-SERVING BOWL

Amber 7/8" x1/2" tall

Reg $3.10 now $ 2.50

RYG1121b-BLUE FLASK

7/8" tall w/stopper

$ 3.00

RYG1125 - FLUTED BOWL

7/8" x1/2" tall

$ 2.75

RYG1129b-SERVING BOWL

Cobalt 7/8" x3/8" tall

Reg $2.50 now $ 2.00

RYG1137 - LG PLANT VASE

1" tall, 1/2" wide

Reg $2.70 now $ 2.25

RYG1163 Fluted Bowl

3/4" wide

Reg $2.50 now $ 2.25

RYG1162 - Canning Jar

3/4" tall

Reg $2.40 now $ 2.00

RYG1013 - PEDESTAL DISH

3/4" tall

Reg $2.60 now $ 2.25

RYG1016 - BRANDY SNIFTER

5/8" tall (or candy jar)

Reg $2.90 now $ 2.25

RYG1151g - WINE BOTTLE

Green glass 1" tall

Reg $2.50 now $ 2.00

OUT OF STOCK

Product on Order